Friday Update – 3/27/20
Current Information and Resources:
All church gatherings have been canceled until further notice. Some small groups are adapting by using email or Zoom meetings. Contact your group leader to see what they have planned. LifeGroup Bible studies are posted on our website.

We have posted our weekend worship service and mid-week Lenten services on our website at www.olivetlutheran.org. One easy button will get you to all of our posted services! These are not live-streamed, so they are available to watch when it is convenient for you. The weekend service will be posted at 5pm on Saturday and the remaining Lenten service will be posted on April 1 at 5pm. This weekend's topic is I AM The Vine, John 15:5-8.

Also on our website is a button that will take you to sermon notes, weekly Bible studies, the weekly Scripture reading and many resources and devotions to use with your children and youth.




---

At this time, the church office & building will be open Monday through Friday, 8am-2pm.




---

Prayer requests can be sent to info@olivetlutheran.org and will be sent out to our email prayer chain.

Let us know if you would like to receive these prayer requests and we will add you to the prayer chain group.

If you would like someone to pray with you privately over the phone, let us know–our chaplains are standing by ready to assist.




---

Ministry Opportunity – One very tangible way for us to "be the church" — local food pantries are running dangerously low of supplies and the needs will continue to grow. We will have bins available inside our main entrance for you to drop off food staples. Examples include: mac & cheese, tuna, ramen noodles, peanut butter, cereal, soup, and Hamburger Helper. We'll be distributing this food to the people who truly need it.
The Bus Trip to Fort Atkinson to see the Church Basement Ladies has been CANCELLED. Anyone who has already paid for the trip will receive a refund check in the next week or so.
Help needed for two virtual projects for Holy Week:
We have two different video projects we are trying to complete. Please choose the one that works best for your family, or have fun helping with both. 🙂 Questions?? Email Mrs. K at trish@olivetlutheran.org.
Palm Sunday:
The children typically start the Palm Sunday Service with a palm parade. This year we were going to sing "Hosanna Rock." We would love 20-30 seconds of video footage (just off your phones) of your children/family having your own palm parade. You can go on YouTube and use the Hosanna Rock music or just have a parade of your own. Pick up a palm branch from church, make your own palm branch, use ribbons or just wave your hands. If you prefer your child's face to not be in the video, simply record them from the back and/or let us know and we will zoom in on their arms and hands during the editing. These video clips can be emailed to Mrs. K–they are needed by April 1st. Thank you!!
Maundy Thursday:
We were planning to have a segment in the service where people would come forward and lay a crown at the base of the cross. We would love footage of you and/or your family placing their crowns down. There is a cross near the front door at Olivet that you can use or you can just lay them down near a cross at your home. We have crown templates available at church that can be decorated–you could swing by church to pick up templates I have printed or you are welcome to create your own and/or use crowns you may have in your home. Faces will most likely be edited out of this video. Please email clips to Mrs. K before April 5th for this service. Thank you for helping us!!
Our hope is to edit the footage together and use them in the services that we post to our website.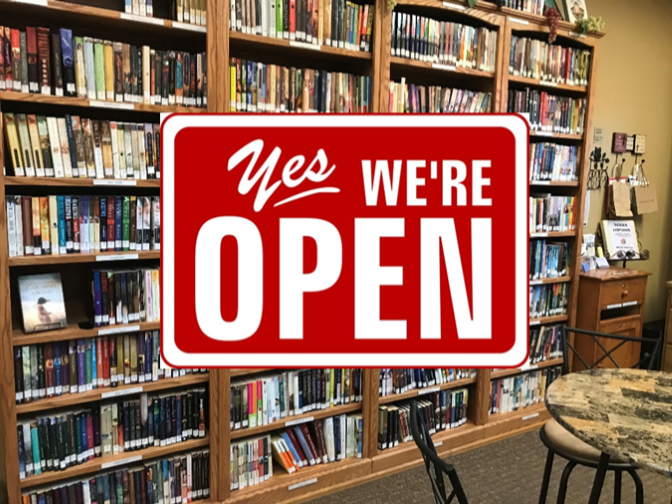 A wonderful way to spend "Safer at Home" time is to read book and/or watch DVD's filled with God's truths for us. While the Olivet Library is open any time the church is open (currently 8am to 2pm weekdays), the best way to obtain materials is to contact Carla Swerman at swermanc@charter.net or (608)781-0171. Through her "Books by Bike" home delivery, she can drop off and/or pick up items within a 30-mile radius of French Island. Any returned items will be wiped down with an alcohol solution. Still, you may want to use hand sanitizer and/or wash your hands after using an Olivet Library item. That way, you – and all library patrons – can fill your mind with Him and experience even greater peace of mind.
A Variety of Ways to Give
Each of us is called to worship God with our entire life, including our time, talents and resources. For many, giving is a way of life. "Remember the Lord your God, for it is He who gives you power to get wealth." Deuteronomy 8:18.
We thank you for your faithful and continued support of Olivet. There are a variety of ways to continue your donations during this time.
You may drop your gift off at the church office during normal business hours, Monday through Friday, 8am to 4pm.

Send a payment to Olivet through your bank's bill pay feature.

Click here to go to our Olivet Giving page where you can set up a one-time or recurring gift, or click on the "Giving" tab on our webpage.
Set up automated giving from your checking or savings account or credit/debit card by filling out a Simply Giving form and returning it to the church office. Click here for a copy of the form.

Use our giving app: GivePlus Church, available for download from the App Store or Google Play.

Give by text to 608-467-5654.
Wednesday Update – 3/25/20
Word of Encouragement from Pastor Andrew:
Dear Olivet Church Family,
Humor can seem in short supply during these stressful times, so I wanted to share a laugh with you from my own family. I received a concerned call yesterday from my 13-year son saying, "Dad, don't you think we really need to stock up on essentials before any kind of lock-down?" I responded, "what kind of essentials were you thinking Elliot?" Immediately he responded, "Doritos!" "Ummm, anything else you think we need?" After a moment's thought, he calmly said, "yeah, maybe ice cream too."
It was funny, but it also brings up a serious point — our children, our families, our neighbors, friends and co-workers — are ALL affected by this time of uncertainty, and everyone is carrying heavy burdens of uncertainty and stress. I cannot imagine going through these days without our mighty God who gives us a future and hope! Let us continue to pray for hearts to turn to the living God in trusting faith, and Lord, let us be your instruments!
Be the Church
The Word of God instructs us, "Let us hold tightly without wavering to the hope we affirm, for God can be trusted to keep his promise. Let us think of ways to motivate one another to acts of love and good works. And let us not neglect our meeting together, as some people do, but encourage one another, especially now that the day of his return is drawing near" (Hebrews 10:19-25).
These familiar words are an encouragement to continue gathering together as the family of God for encouragement and blessing. But what happens when we are not able to worship together in person as God's family?
We are committed to continue offering our Olivet worship services online. While we would rather be together, there's something reassuring about worshiping, joining together in our "call to worship" and prayer time, and hearing from God's Word. Thank you to all those who are working hard behind the scenes to put these services online.
Another way for us to stay connected – do you have any spiritual questions that you're wondering about during these challenging days? Send in your question(s) and we will tackle some of them. Let's start with this one – "what is one way I can be the church during this time?" Click this link to hear the answer! https://www.youtube.com/watch?v=iaNJ25DNreE&feature=youtu.be
Please keep in touch during this season of uncertainty with your praises, prayer requests, and simply to let us know how you are doing. If we can be of extra service to you in any way, please let us know. We have prayer chaplains who would be honored to pray with you over the phone.
Thank you also for your amazing generosity, Olivet! You have responded INCREDIBLY to the call for non-perishable food items – our own Olivet pantry is replenished and we will be donating the rest to WAFER food pantry to help with the growing needs of our community. We will be keeping the donation bins available right inside our main door entrance for continued food donations.
Let me close with the words of one of my very favorite hymns. My prayer is you will find yourself singing and meditating on these words today and even during your sleep –
O soul, are you weary and troubled?
No light in the darkness you see?
There's light for a look at the Savior,
And life more abundant and free.
Turn your eyes upon Jesus,
Look full in His wonderful face,
And the things of earth will grow strangely dim,
In the light of His glory and grace.
God's blessings to each of you,
Pastor Andrew